This section describes both the general background info and setup of a GFT solution for training in a RL context followed by the specific implementation for the SC2 use case.
2.1. General GFT workflow
The typical workflow for creating a GFT AI solution involves creating a GFT-based agent with a tree structure that is purposefully designed such that it is explainable and formally verifiable. The performance of the agent is evaluated through a number of different scenarios for training, testing, and validation. The system is then formally verified against specifications about its behavior. Explainability aspects are used both as an auditing tool when evaluating counterexamples from the formal verification process, and also as a knowledge transfer device to allow human observation and understanding of what the agent learned during the RL process.
GFTs are most often created using a combination of initial expert knowledge and machine learning using gradient-free optimization. Thales's GFT toolkit is a commercial software package that includes both a Fuzzy Inference System (FIS) engine named Psion and a Genetic Algorithm optimization engine, EVE, which combined represent the best software implementation of Genetic Fuzzy Trees available today [15]. An example of a notional GFT structure is shown in Figure 1.
The GFT is then trained using EVE in whatever context the problem is framed (supervised, reinforcment) until termination criteria are met. These termination criteria can include performance metrics, time, number of generations/epochs, stagnation measures, etc. Once this round of training is complete, verification can occur on the GFT (fixed parameters) along with SME/developer auditing and manual changes. Counterexamples from the verification process can be used to directly change aspects of the GFT, or inform the ML process in the form of constraints, reward modifications, etc. The GFT can then be reinitialized and trained using the ML process again. This process iterates until system requirements are met.
2.1.1. Initial GFT structure
The GFT structure is primarily defined through the input/output flow of each FIS node within the system. Although a GFT structure can be initialized randomly and optimized through EVE, it is often advantageous to initialize using domain knowledge where possible. This is beneficial for two main reasons:
1. It takes advantage of domain knowledge as an initial seeding to use as a starting point. This provides a valuable baseline that can then be expanded/improved upon
2. Depending on methods used, can preserve semantic relationships/importance in the structure itself due to the linguistic nature of FISs and the connections between them in the tree
Note that these are not strictly necessary for explainability or performance, but often lead to shorter project development times and improve transparency/understandability [18]. Assuming a manual structure is provided, the learning agent can be left to optimize all of the Membership Functions (MFs) and Rule-Bases (RBs) of the FISs, either holistically or individually.
2.1.2. GFT RL training
Due to the gradient-free algorithms used for the training process, the methods used for both supervised and reinforcement learning problems are largely the same with the difference being in the formulation of the fitness function. Where in a supervised learning problem the fitness function may be a measure of the fit of the function to the underlying data (LMS, cross entropy, etc.), in RL use cases the fitness is often a measure of how well the agent performed in one or more simulated episodes, or scenarios. The resulting fitness score is used to evolve the population of candidate GFT solutions until termination criteria are met.
After some amount of training, a fixed configuration for the GFT architecture is evaluated, tested, and verified. Additional numerical testing is often performed along with unit tests, formal verification, and human inspection and correction. If counterexamples to formal specifications are found, they are often mitigated through direct designer input, or added to the RL process in such a way to penalize GFT configurations in the GA population that have such violations. This iterative process continues until adherence to all specifications and requirements is achieved and performance metrics are met.
2.1.3. Formal verification
As mentioned in Section 2.1.2, the process for verifying a GFT involves taking a GFT with a particular configuration (fixed structure, parameters, etc.) and evaluating it against formal specifications about its behavior. These specifications are often derived from system requirements, but can also be created from sources such as numeral/simulation-based test results, rules of engagement or other high level behavioral constraints, certification standard criteria, etc. The specifications are then translated from natural language to a formal language using mathematical logic in order to be encoded for formal methods analysis. The formal languages used depend on the necessary expressiveness of the language based on the specification itself. Some of these languages include Propositional Logic, First Order Logic (FOL), and temporal logics such as Linear Temporal Logic, Computational Tree Logic, etc. Many others could be used depending on the use case and formulation of the specifications and models, and Thales GFTs have been implemented with a number of these methods, most commonly FOL and LTL.
Models of the GFT are then translated to formal verification tools such as SMT solvers and model checkers, and then checked against the specifications. If counterexamples are found, modification of the GFT is performed by the designer and/or the ML process. The tools used in this work are the state-of-the-art SMT solver Z3 [19] along with the infinite state model checker jKIND [20].
2.2. Starcraft 2 GFT development
The development process for the SC2 use case is largely the same as the general process described in Section 2.1. An initial GFT is constructed for parts of agent control based on expert knowledge, it is trained using gradient-free RL in the SC2 environment, formal verification is performed and modifications are made based on counterexamples generated, and then iterated until a performant, specification compliant GFT is found.
2.2.1. StarCraft 2 information
As this study is focusing on specific scenarios for demonstrating the explainability and formal verifiability of this capability, we only consider four different unit types within this context:
● Marine: A basic human infantry unit which can fire a ranged volley at a certain frequency. Has an advanced technique Starcraft 2 players can utilize in which if they perform rapid movement commands between volleys, they can both re-position slightly as well as fire faster, outputting more damage per second.
● Medivac: A human air vehicle which can utilize a limited resource pool to support ground biological units, such as marines, by healing their durability at a set amount per second. Can also be utilized to transport units, though this capability will not be utilized within the context of this study.
● Siege Tank: A human ground vehicle, which can move and attack ground units normally. In "siege mode" the tank becomes stationary, but can attack further and do increased damage per shot, but cannot attack units within a short range of it. Most interestingly for this study, this unit is one of the few that does "splash damage" that includes friendly units. That is, friendly units near the target will take damage within a certain range. As such, the siege tanks within this study will always be in "siege mode".
● Zergling: An alien (Zerg) insect unit that is a fast melee attacker. Can not attack air units but can quickly overwhelm ground units. Will serve as the hostile unit type for this study.
A primary training scenario has been developed which will be utilized for reinforcement learning for a difficult engagement made up of these units. A plurality of other engagements have been developed for testing and formal verification.
From a raw performance perspective, the mission shown in Figure 2 is the primary performance objective to complete. This mission has 16 zerglings that make up the hostile forces as well as 6 marines, 1 medivac, and 1 siege tank on the friendly team.
Figure 2. Primary scenario to be utilized for training and analysis. Consists of a stronger zergling force within close range of the human force. Pictured (1) siege tank, (2) medivac, (3) marines, (4) zerglings.
This mission is such that if the in-game controllers for both forces behave natively, the human ground forces lose with on average at least 7 of the zerglings still alive. This mission is feasible for a human to complete with some forces remaining, but is very difficult and requires advanced tactics within the game. Despite expertise in the game, the standard ending with manual full focus on controlling the human forces has notable losses.
2.2.2. Tree structure creation
A GFT has been created to control these 3 specific types of human units, both individually or as an entire force. The general approach for these sorts of control problems is to generate an entire action plan each time step of the environment. As such, the GFT utilized within this study will provide significantly higher action throughput than what would be maintained by a human.
Through subject matter expertise within this type of engagement, we understand that there are a few key control decisions that need to be made each time step:
● The Medivac should make healing decisions that efficiently utilize its resources and keeps biological units alive as best as possible.
● The Marines must be intelligent in how they spread their fire against the incoming group of targets, focusing fire to eliminate enemy units efficiently.
● The Marines optimally will utilize the "stutter step" strategy, both to increase their effective attack speed as well as to potentially minimize the total incoming damage from the enemy melee units.
● The Siege Tank is a powerful unit and should attempt to get as many effective shots off, while minimizing the harm it does to friendly units.
A relatively simple FIS structure can accommodate these considerations, with all but the Siege Tank control defined as an output of a single FIS with minimal additional algorithmic work. In Figure 3 these individual FIS nodes are displayed, each being 2-input Mamdani FISs [21].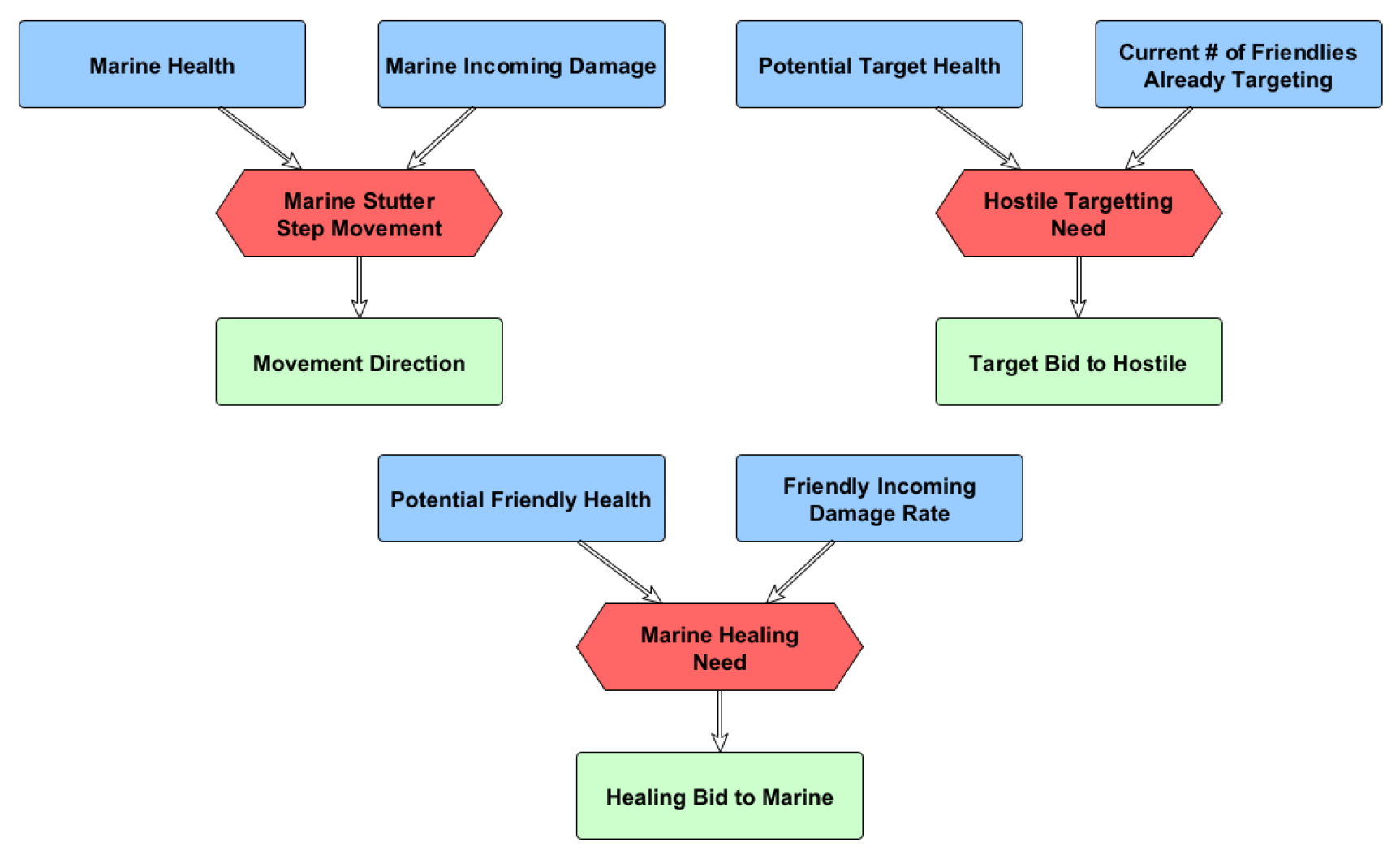 Figure 3. Three standalone FISs for Marine Movement Control, Marine Firing Control, and Medivac Healing Control utilized within the studied model. Normalized inputs in blue, FISs in red, and normalized outputs in green.
Specifically, the Marine Stutter Step Movement control will define a relative movement direction to threats based upon both the marines current health, as well as its incoming damage rate from hostiles. The Marine Firing control has a FIS which outputs a bid, from 0% to 100% to select a certain hostile target at every time a shot is available. The potential hostile target with the highest bid is then selected for the marine to attack. This bidding FIS takes in the normalized health of a potential target, as well as the relative quantity of already assigned attacks against this target. The medivac Healing control utilizes a similar approach, considering each friendly unit it can heal and selecting to heal the unit with its highest priority. This priority being determined based upon the normalized health of each marine, and its relative incoming damage rate.
The control for the siege tank's firing logic is more complex and therefore is made up of 3 FIS nodes, shown in Figure 4. The approach utilized for this structure is to make our decisions considering how effective a shot would be against a selected unit, as well as how safe that shot would be to nearby friendly units. Effectiveness is determined by two main items; zerglings are low health units and the siege tank can easily waste some of its damage potential by targeting a very damaged zergling. However, if the very damaged potential target is in the middle of a group of hostiles, selecting that target may still be ideal due to the splash damage. Shot safety is essentially the opposite, now considering splash damage a shot would do to any friendlies, combined with the lowest health of the friendly units that would be affected by said splash damage. A differentiation between the marines' fire control is that the marines should always attack as often as they can in this engagement due to the fact they only damage their hostile target. The fire control for the Siege Tank will select the hostile target to fire at among all hostiles it considers, but only if that maximum fire bid is above 50%, otherwise it would opt to not fire.
2.2.4. Explainability
After creating the tree structure, individual FISs are constructed using expert knowledge where available in most cases. Often this will be in the form of the number of MFs which will be utilized in each FIS; often leaving the specific distribution of said MFs across the input space to the machine learning process.
Explainability can be analyzed through a plethora of manners; the structure of the FISs created for this study were designed to optimize the general explainability and interpretability of the system alongside raw performance. As an example, the input MF sets for the Marine Firing FIS are shown in Figure 5.

Figure 5. MFs for Marine Firing FIS. Input 1 corresponds to normalized potential target health with 5 MFs for "Very Low, Low, Moderate, High, Very High". Input 2 corresponds to current number of assigned friendly attackers already through this bidding cycle with 4 MFs for "None, Some, Many, All".
A variety of approaches can be utilized to interpret the membership functions and provide explainability, but one of the simplest approaches would be to report or display the most active membership function for each input, corresponding with its rules. This represents the membership function with the largest impact on the output. This can essentially be compared to Shapley Values, a popular explainability metric utilized across multiple RL approaches [22, 23]. In general approaches, these values enable a determination of the most impactful variables leading to a particular output. Through the membership functions of a given FIS, this is innately provided. Due to the fact that all system variables have the potential to be human understandable terms within a fuzzy based system such as the GFT, there is further intrinsic value within this approach if the GFT is properly designed. Note that explainability is not inherently granted through the utilization of fuzzy systems; rather fuzzy logic is a construct in which systems that are highly explainable can be developed.
For example, an input combination of 0.04 normalized target health, and 0.01 assigned attackers with its resultant output can be examined, and an explanation structure can be generated from membership function and rule labels: "Bid output is Very High because target health is Very Low and assigned attackers is None". For more extensive fuzzy tree structures, this explanation can be repeated across subsequent cascaded FISs allowing for the creation of a linguistic explanation of the entire decision process. This form of explainability and transparency will be heavily utilized during the formal verification process as manual corrections to the post-training model will be performed if any specifications are found to not be adhered to via formal methods. This requires direct changing of the code of the model at all levels, not just the input or output layers. Holistic understanding of any modifications made throughout this process are critical for any potential deployment of the system post-modification.
2.2.5. Reinforcement learning
The standard RL process for a GFT is to first create a portfolio of training scenarios that each individual in the GA population is evaluated over. This model was created through utilization of an open source Python package for interfacing with SC2 such that constructive runs through these scenarios is possible [24]. Within this study a single mission portfolio is utilized to highlight the formal verification processes, but for most applications a portfolio containing multiple holistic scenarios as well as specific training sub-problems would be included [11, 14]
The manner in which the performance will be evaluated must also be defined through the requisite Fitness Function for the GA. The fitness function utilized within this study is found in Equation 1.
$$ Fitness = (MarinesAlive * 25.0) + FriendlyHPRemaining - HostileHPRemaining - (Timesteps/100.0) $$
The magnitude range of this fitness function is not critical within EVE, but rather the ability for the evolutionary process to differentiate relative fitnesses between potential solutions, or chromosomes, in a manner that thoroughly rewards good behavior and punishes bad. With this example, the terms specifically are a flat 50 point reward for every marine alive at the end of the scenario. This is then added to the summation of the total friendly health remaining, including that of the siege tank, which has a notably higher health pool than marines. This is subtracted from the hostile force health pool remaining. Finally, there is a slight penalty for the number of timesteps it takes to complete the scenario, as if all other parameters have reached optimality, ideally the solution executes quickly in case additional threats would be inbound to the force. This function is able to be iterated over in future work, but serves as a good basis for the GA to evolve the population of chromosomes.
There is an additional complexity with this particular problem due to the nature of Starcraft 2 and this training setup; non-deterministic fitness evaluations. As the fitness value given to any chromosome within the population will drastically affect both its probability for breeding as well as the relative worth of potential future chromosomes, the ability for a good chromosome to be "unlucky" and a bad one to be "lucky" during their respective evaluations can be damaging to the effectiveness of an evolutionary system. There are mitigating methods, such as evaluating the scenarios, or portions of them, multiple times. Within this study, each chromosome will be evaluated a total of three times, with the worst fitness of those three being the actual fitness that is assigned, to easily mitigate the worst case risk at the expense of computational efficiency of each generation's evaluation.
2.2.6. Specification identification and development
One of the most difficult, and important, aspects of formal verification is specification identification and development. Most often, these specifications come directly from system requirements. However, they can also come from other sources such as certification criteria and standards, external regulations such as Rules of Engagement (RoE), and simulation and testing results. In this work, the specifications come from expert knowledge on desired system behavior with respect to performance and safety of actions taken by the AI. Specifically, that the AI will not take certain actions if unacceptable damage or losses will occur to friendly forces.
Different types of specifications are created based on the FISs that are affected, the needed expressiveness of formal languages in which they will be translated, and the tools available for verifying the systems. For this study, four safety specifications were developed. Safety, in this context, refers to behavior such that nothing bad ever happens, where "bad" is defined as an undesirable set of system states. Some would help guarantee not only safe, but also ideal behavior from a performance perspective. However, other safety specifications solely focus on desired safety qualities at the expense of raw fitness performance.
These specifications, in natural language, are as follows:
● Medivac Healing Spec: If a marine's health is very high and the marine is not under attack, its corresponding healing bid must be very low;
● Marine Firing Spec: If a separate friendly marine has already bid to attack a target whose health is very low, than a marine's fire bid on that target must be very low;
● Tank Firing Spec: If a friendly unit would take splash damage from a tank shot and the lowest health friendly in splash range is between very low and low health, only fire at the target if it would do very high damage to the enemy;
● Tank Conservative Firing Spec: Never cause splash damage to any friendly unit, regardless of their health.
Through setting the values to the corresponding terms utilized within these specifications to that of our MFs, we can quite simply apply these specifications to a trained Fuzzy Tree through the formal verification tools with the Psion fuzzy logic package. If a counterexample is found where the specification does not hold, typically the designer must either change the spec, or as we will limit this study to, modify the MFs and/or RBs of the associated FISs.